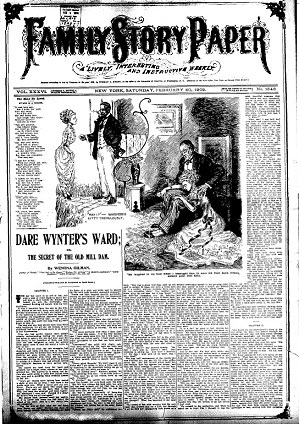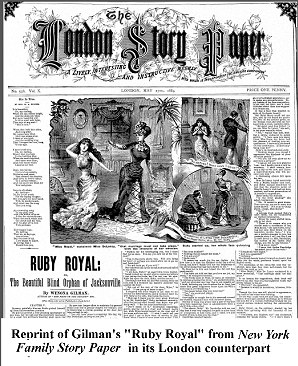 Florence Blackburn White Schoeffel (Wenona Gilman)
A Brief Outline of Schoeffel's Life and Career
Born in 1860 in Owen County, Kentucky, Florence Blackburn White later moved to New York with her mother, Mrs. M. A. Kennedy. Intially, rather than writing, she studied drama under Alfred Ayers and may have performed with the Union Square Company.
According to J. Randolph Cox's Dime Novel Companion, Schoeffel was one of at least two writers using the pen name "Wenona Gilman." (The other was Harry Enton.) Thus, information about her work is limited to identifying serials issued as by Wenona Gilman rather than establishing which were actually from her pen. By the late 1880s, serials under that name appeared regularly in several story papers. From July 1887 through May 1890, Norman Munro's New York Family Story Paper published Gilman romances such as "Ruby Royal; or, The Beautiful Blind Orphan of Jacksonville" (10 Nov. 1888 - 2 Feb. 1889) and "Leonie the Typewriter" (1 Mar. - 17 May 1890). After 1890, Norman Munro's brother and competitor, George Munro, published serials under that name in his Fireside Companion, for the next several years.
In 1892, Florence White married George Joseph Schoeffel (1851-1921). Schoeffler, a man of many occupations, was born in Rochester, worked for the railroad briefly, moved to Milwaukee where he was for a time was Vice-President and General Manager of the Milwaukee Lithographing & Engraving Co. In 1887, he relocated to St. Paul, where the governor subsequently appointed him Inspector General of the state's National Guard. Schoeffel returned to New York in the late 1880s or early 1900s and for a time was the publisher of Outing magazine. According to one biography "From 1891 to 1900 he was in the Marine electrical business and subsequently was appointed Special Agent of the Insurance Department of the Erie Railroad, soon after having added to his supervision other departments, including that of the Police and Fire. He was also president of the New York Terminal Railway Police Association."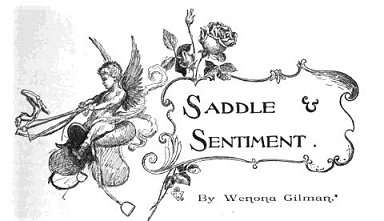 The couple may have met after Gilman submitted a story to Outing -- or, alternatively, Schoeffler may have encouraged her to write for the magazine. Her short story about a woman going hunting, "An American Rosalind; or, A Woman's First Experience in a Manly Sport, " ran in the April 1891 issue. That November, Outing began a year-long serialization of a work known to be hers, "Saddle and Sentiment." The latter, however, did not work to her satisfaction, for in 1894 she sued Outlook for $10,000, claiming she had been told the magazine had a circulation of 150,000 and the serialization would promote her story; she later learned the magazine's circulation was only 20,000 - 25,000.
In 1895, she tried writing for another market. Several of the papers carried a notice that a play by Florence Schoeffel, "His Puritan Wife," was to be staged by Marie Wainwright's company, with Wainright in the lead role.
By then, more stories under the name Wenona Gilman were running in the Family Story Paper; again, these may have been her work or Harry Enton's. Gilman stories from this period included "A Modern Lochinvar; or, What Followed Dulcie's Leap-year Ball" (16 May - 8 Aug 1896), "Evelyn, the Actress; or, The Leading Lady of the Corinthian. A Romance of the Stage" (1 Aug - 31 Oct 1896), and "Dare Wynter's Ward; or, The Secret of the Old Mill Dam" (8 May - 31 July 1897).
In October 1897, Schoeffel's daughter Florence was born; a son, George John, was born in November 1898. The name and birthdate of her third child, a son, are not yet known.
Florence Schoeffel died at her home on 69 Madison Avenue, New York City, on 16 April 1900. The 1900 census, taken in June, shows two of her children, Florence and George, living in Manhattan with their grandmother, Evelyn M. Kennedy of Kentucky.