Schoolfellow began life as a Southern magazine. It was published first in Georgia, then in South Carolina, before relocating to New York City about 1853. Many of the Schoolfellow's regular contributors, especially in its first few years, lived in the south* -- including its editor, William Carey Richards, his wife, Cornelia Holroyd Richards, and his sister, Kate Du Bose.
One relative and valuable contributor was from the north, however -- Richards' sister-in-law, Alice B. Neal. In the late 1840s, Neal had edited "Bird's Nest," the children's page of her husband's Philadelphia periodical, Neal's Saturday Gazette, and she may have helped her brother-in-law find additional material for his magazine. Several northern authors who had contributed to the Gazette -- such as Sarah Tuthill and Mary Reed Hildeburn -- also wrote for Schoolfellow. After Schoolfellow's move to New York, Alice B. Neal (by then, Alice Haven) became one of its editors.
The entries below provide biographical information for most of the recognizable American writers who contributed two or more pieces to the magazine. Regrettably, a number of contributors remain masked under unidentified pseudonyms (most notably, Isja Avinta, Lemissa, Rose Du Sud) or are otherwise untraceable (Mary Glenn, Ellen Lloyd). The entries are primarily excerpts from contemporaneous sources, thus offering some sense of how the authors were viewed in their own time. In a few cases, especially of writers slighted in reference sources, additional information has been added.
*Note: After the magazine was moved to New York, many of the articles in Schoolfellow appeared anonymously. (Authors may have been credited on the inside front cover -- a part of the magazine which was lost when it was issued as a bound volume.) The missing attributions after 1853 make it difficult to determine how many Southern writers remained with the magazine after its relocation.
Essie B. Cheesborough:
Esther Blythe Cheesborough (1825-1905)
In Schoolfellow as: E. B. C.; E. B. Cheesborough
From Mary Forrest, Women of the South Distinguished in Literature (New York: Charles B. Richardson, 1866)
"Is a native of Charleston, South Carolina. For several years she has been a constant contributor of prose and verse to the leading periodicals of the South. Her compositions have mostly appeared in the 'Southern Literary Messenger,' 'Southern Literary Gazette,' 'Russell's Magazine,' 'Southern Episcopalian,' 'The Southern,' and the 'Charleston Courier.' She has also contributed to 'Godey's Lady's Book.'"
- - - - - - - - - - - -
From Southland Writers: Biographical and Critical Sketches of the Living Writers of the South, vol 2 (Philadelphia: Claxton, Remsen & Haffelfinger, 1870)
Essie B. Cheesborough is a daughter of the late John W. Cheesborough, a prominent shipping merchant of Charleston, South Carolina. Her mother is a native of Liverpool, England. Miss Cheesborough was educated in Philadelphia and in her native city, Charleston, South Carolina.
She commenced her literary career at an early age, writing under the noms de plume of 'Motte Hall,' 'Elma South,' 'Ide Delmar,' and the now well-known initials of 'E. B.C.'
She was a regular contributor to the 'Southern Literary Gazette,' published in Charleston, and edited by the Rev. William C. Richards; and when Mr. Paul Hayne assumed the editorship, she continued her contributions. She was also a contributor to 'Russell's Magazine,' one of the best magazines ever published in the 'Southland,' and to various other Southern literary journals of the past, and to the 'Land we Love,' of the present era. After the war she was a regular contributor to the 'Watchman,' a weekly journal, edited and published in New York by the Rev. Dr. Deems, of North Carolina, with which journal she was connected until its discontinuance.
Miss Cheesborough's style is fluent and easy, and she does not pander to the sensational, but is natural, truthful, and earnest, never egotistical, or guilty of 'fine writing.' She has never published a book, although her writings on various subjects, political, literary, and religious, would fill several volumes."
Additional information: Cheesborough apparently never married. She died in December 1905 and is buried in Charleston, South Carolina.
---
Kate Du Bose:
Katherine Ann Richards Dubose (1826 or 1828 - 1906)
In Schoolfellow as: Leila Cameron; also as Mrs. Du Bose; Mrs. C. W. DuBose; possibly Cousin Leila and/or Cousin Kate
Excerpted from The Living Female Writers of the South (Philadelphia: Claxton, Remsen & Haffelfinger, 1872)
"MRS. DU BOSE is the eldest daughter of Rev. William Richards, of Beaufort District, S. C. She was born in a village in Oxfordshire, England, in 1828. Shortly after her birth, the family came to the United States, and settled in Georgia, but removed in a few years to their present home in Carolina.
"In 1848, she was married to Charles W. Du Bose, Esq., an accomplished gentleman, and lawyer of talent and ability, of Sparta, Georgia, where they still reside.
"Mrs. Du Bose was educated in Northern cities, but for some years was a teacher in Georgia, her adopted home.
"At an early age, she gave indications of a love of letters . . . Her productions have been given to the public from time to time, through journals and magazines, generally under the nom da plume of 'Leila Cameron.' Some of her best poems appeared in the 'Southern Literary Gazette,' published in Charleston, and edited by her brother, Rev. William C. Richards, now a resident of Providence, R. I. The 'Orion Magazine,' of Georgia, was also favored with contributions from her pen, and in its columns appeared the prize poem, entitled 'Wachulla,' the name of a famous and wonderful fountain near Tallahassee, Florida. This poem was deservedly popular, and if the spirit of the fountain had chosen a nymph from its own charmed circle to sing the praises of 'beautiful Wachulla; and its surroundings, the lay could not have gushed up from a heart more alive to its beauties and attractions than that of its talented author.
"In 1858, Mrs. Du Bose's first volume was published by Sheldon & Co., New York. This is a prose story for the young, entitled, 'The Pastor's Household' —a story of continuous interest, displaying narrative and dramatic power. . . .
"As a member of a large family, all remarkable for intellectual acquirements, Mrs. Du Bose has been much favored in procuring an early and thorough cultivation. One of her brothers, Rev. William C. Richards, is not only widely known as a popular editor and writer, but is also the author of the 'Shakspeare Calendar.' Another brother, T. Addison Richards, of New York, the poet and artist, is the principal of the 'School of Design for Women,' established within the walls of Cooper Institute, New York.
"In her elegant home, where unpretending piety and domestic love are combined with refined and cultivated tastes, seen in all the surroundings, and where the patter of children's feet is heard, and their happy laugh echoes through its walls, Mrs. Du Bose forms the centre of attraction to a circle of friends, as well as that of home, and wears with equally charming grace the triple name of wife, mother, and author."
Additional information: Although published biographies give Kate Du Bose's year of birth as 1828, family genealogies indicate it should be 1826. They also show the Du Boses had four sons -- Charles, Andrew, William, and George -- born between 1849 and 1862, and that her husband died in 1890.
---
Jennie Elder*
(Jane Williams Elder? [1831-1875])
In Schoolfellow as: Jennie Elder
The only definite information about Jennie Elder is that she lived in Lunenburg County, Virginia, during the years she contributed to Schoolfellow and that she had contributed at least one poem, "The Dying Girl to Her Mother," to Alice B. Neal's "Bird's Nest" column in Neal's Saturday Gazette in mid-1848. (At the time, Alice Neal referred to her as "a very young lady," adding "we might [even] call her a little girl.") Her Schoolfellow contributions spanned 1850-52. No other publications have been located.
It is possible that Jennie Elder was Jane Williams Elder. Online genealogical information compiled by the late Peter Elder identifies Jane Williams Elder as "Jennie." That Jennie Elder was born in 1831, to Harrison James Elder and Nancy A. Collier. She was one of at least nine children. Her 1850 census entry shows her father and eldest brother were farmers, and that she had four younger siblings (ages 9, 12, 14, and 17). Her birthdate suggests she was of an age to have been contributing poetry and short stories to Schoolfellow in the early 1850s.
In 1858, Jane Williams Elder married a wealthy farmer, John Alfred Hawthorne. He was a widower, apparently with several children from his first marriage. The 1860 census shows "Jennie W Hawthorn" in a household in St. Andrew's Parish, Brunswick Township, Virginia, with seven children: six were presumably Jennie's stepchildren, ages 5 to 17; the seventh, Leila, was not yet a year old. Her husband's real estate was valued at $10,000 and his personal estate at $4000. The Civil War and Reconstruction exacted a toll on the household: in 1870, the couple were still in Brunswick County (now in Red Oak Township), but John's real estate was valued at $2000 and his personal property at $800. It appears that two stepchildren were still in the household, along with five children of John and Jane's, ages 3 to 11. (Another child would be born about 1874.) Jennie has no occupation listed in the 1860 census, and "housekeeper" in 1870; if she was writing, there is no indication in the official records. She died in 1875.
---
Caroline Howard Gilman (1794-1888)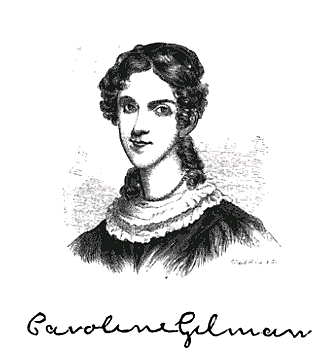 In Schoolfellow as: Caroline Gilman, Mrs. Gilman, Mrs. Caroline Gilman
From George Armstrong Wauchope, The Writers of South Carolina (Columbia, SC: The State Co., 1910):
"Caroline Howard Gilman was born at Boston, October 8, 1794, and died at Charleston in 1888. Her father, Samuel Howard, was a shipwright. After his death in 1797, her mother moved into the country. There she spent her girlhood, restless, pious, fond of reading, and precocious. She wrote verses at ten, and published a poem, 'Jephthah's Rash Vow,' when she was sixteen. In 1819 she married the Rev. Samuel Gilman, D. D., who shortly afterwards made his home in Charleston as pastor of the Unitarian church. He died there in 1858. In 1832 Mrs. Gilman founded and edited The Rosebud, [one of] the first weekly newspaper[s] for children in the United States. In this periodical and in its successor, The Southern Rose, appeared most of her literary work. That she was an industrious writer will appear from the list of her publications.
"Mrs. Gilman was the author or editor of the following books: The Ladies' Annual Register for 1838; Ruth Raymond, or Love's Progress; The Poetry of Travelling in the United States, 1838; Recollections of a New England Housekeeper; Recollections of a Southern Matron, 1867; The Rosebud Wreath; Verses of a Lifetime, 1849; Mrs. Gilman's Gift-Book of Stories and Poems for Children, 1850; The Humming-Bird; The Little Wreath; Oracles from the Poets, 1852; Sibyl, or New Oracles from the Poets; Oracles for Youth, 1854; Stories and Tales for Children; Tales and Ballads; and Letters of Eliza Wilkinson, during the Invasion of Charleston, 1839."
Excerpted from her obituary in The Critic 10 (1888):
"Caroline Howard Gilman, widow of the Rev. Dr. Samuel Gilman, died at Washington last Saturday. A slight stroke of paralysis had disabled her on the previous Saturday, and she had since been gradually sinking. Mrs. Gilman was born in Boston in 1794, and at the time of her death was on the eve of her ninety-fourth birthday. As long ago as 1830 she began editing The Rosebud, a ' juvenile' weekly published at Charleston, S. C, where her husband was pastor of a Unitarian church from 1819 till his death in 1858. This periodical after six years expanded into The Southern Rose, for older readers. . . . She had come to the North to live, having left Charleston on account of the death of her eldest daughter."
---
Angele De V. Hull:
Angele De Vandel Hull (b. after 1818; probably d. before 1860)
In Schoolfellow as: Angele De V. Hull
Excerpted from Anne Bozeman Lyon, "The Bonapartists in Alabama," The Gulf States Historical Magazine 1 (1903)
Her father was Colonel Emile de Vendel, [who was b]orn in Paris about the time of the death of Louis XVI. . . . After the Restoration de Vendel was imprisoned six months for the part he bore in the return of Napoleon. But knowing his loyalty made it impossible to look for aught from the Bourbons, he left France and came to America . . . He spent some months in the Capital, then went to New York. There he married Mademoiselle Josephine Bancal de Confluent, a daughter of Sieur Louis Bancal, formerly Grand Equerry to Louis XVI.; a gentleman who escaped the guillotine to find a home in this country. De Vendel finally settled in Huntsville, Alabama; he afterward moved to Mobile. He did not remain long in town, but bought a place at Spring Hill. His daughters were educated there; the eldest was Madame Adelaide de Vendel Chaudron, one of the most distinguished women in the South. Had it not been for her desire to shun publicity the world would have been enriched by her brilliant literary achievements. As it was, however, she produced many virile and apposite editorials [in] her work on the Mobile Register, under the guidance of Col. John Forsyth . . .
- - - - - - - - - - - -
Excerpted from T. C. De Leon, Belles, Beaux and Brains of the 60's (New York: G. W. Dillingham Company, 1909)
"There were four de Vendel sisters besides Madame Chaudron. Louise never married and died years ago. Angele married Henry Hull and both are dead . . . [T]heir son, Edgar Hull . . . lost a leg in the Civil War.."
- - - - - - - - - - - -
From The Living Female Writers of the South (Philadelphia: Claxton, Remsen & Haffelfinger, 1872)
"Mrs. Angele De V[endel] Hull, who resided in Mobile, and died there, was a favorite contributor for several years to Graham's Magazine and other literary journals."
Additional information: The 1860 census shows 17-year-old Edgar Hull and his 14-year-old sister Adalaide living with 37-year-old Louise Devendel [De Vendel], possibly an indication they had been orphaned and were living with their aunt. Henry and Angele Hull have not been located in the 1850 or 1860 census.
---
Caroline H. Gilman Jervey:
Caroline Howard Gilman Glover Jervey (1823-1877)
In Schoolfellow as: Caroline Howard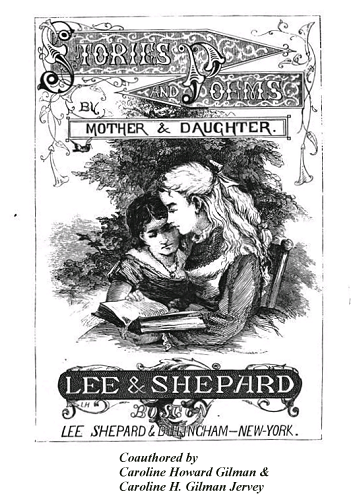 From Mary Forrest, Women of the South Distinguished in Literature (New York: Charles B. Richardson, 1866)
"Mrs. Caroline Howard Glover, the daughter of Mrs. [Caroline Howard] Gilman, was born and educated in Charleston, S. C. Married at the age of seventeen, she was left a widow at twenty-three, and has since resided with her three orphan children at the home of her parents.
"Gracefully veiling herself with the maiden name of her mother, she contributed many choice poems and tales to the leading magazines of the South, and has been, to children especially, a sweet interpreter of poetry and romance."
- - - - - - - - - - - -
Excerpted from Southland Writers: Biographical and Critical Sketches of the Living Writers of the South, vol 2 (Philadelphia: Claxton, Remsen & Haffelfinger, 1870)
" Caroline Howard Gilman, the daughter of Rev. Samuel Gilman, a Unitarian clergyman, and Mrs. Caroline Gilman, the celebrated authoress, was born in Charleston, South Carolina, in 1823.
"In 1840, Miss Gilman married Mr. Wilson Glover, a South Carolina planter, and was left a widow in 1846, with three children, one son and two daughters. She returned to her father's house, and immediately began to teach, and for fifteen years carried on a successful school in Charleston.
"While engaged in teaching, she wrote papers for magazines, also poems, over the signature of 'Caroline Howard;' and finally her novel, 'Vernon Grove; or, Hearts as they Are,' which appeared serially in the 'Southern Literary Messenger,' and was afterward published by Rudd & Carleton, New York, passing through several editions, and warmly received by the critics. 'Vernon Grove' was copied for the press at night, after being in the school-room all day; and yet Mrs. Glover kept up all her social duties, visiting, entertaining, and seeming always to be as completely the mistress of her own hours as the idlest fine lady.
"She is fastidiously neat and particular in all her surroundings, and a wonder for arranging and contriving. While in Greenville, during the war, says a friend, where her apartments and premises were unavoidably small, they were miracles of ingenuity and order.
"In 1865, Mrs. Glover married Mr. Louis Jervey, of Charleston, who had been devotedly attached to her for many years. By this marriage she has one daughter. Her son is married; and her eldest daughter has been, like herself, left a youthful widow, with two little children.
". . . [H]er temper is perfectly even and self-controlled, her judgment good and ready, and her unfailing cheerfulness and flow of pleasing conversation make her a charming companion. She talks even more cleverly than she writes, and has a vein of humor in speaking which does not appear at all in. her novels. Mrs. Jervey is uncommonly youthful in appearance, is above the middle height, with a fine, full figure, and an erect, commanding carriage. Her hair is golden-red and abundant; her complexion is very fair, and with dark eyebrows and lashes she would be lovely: as it is, she is at times indisputably handsome. Her manner is striking, lady-like, perfectly self-possessed—not exactly studied; but 'her memory is extremely good, and she never forgets to be graceful' . . .
"We are sorry to say that this accomplished lady is at present in ill health — prohibited any literary labor, even the most careless letterwriting. Her latest novel, 'Helen Courtenay's Promise,' (published by George W. Carleton, New York, 1866,) was prepared for the press by dictation of an hour a day to one of her daughters. This novel has been styled the 'production of a brilliant, creative fancy.'"
---
Jane McElheney (Ada Clare) (1836-1874)
In Schoolfellow as: Ada A. McElhenney
From William Winter, "Ada Clare," in Brief Chronicles, Publications of the Dunlap Society, No. 7 (New York, 1889) [slightly excerpted and rearranged]
"She was born at Charleston, S. C., in 1836. Her real name was Jane McElhenney. She came of a reputable family, and was the cousin of the poet Paul Hayne. Her parents died when she was a child, and she was left to the guardianship of her grandfather, with whom she first came into the North. At an early age she left her home, adopted the name of Ada Clare, and, after some vicissitudes, determined to follow the profession of the stage. Her advent was made at Wallack's old theater, where she represented Knowles's Julia. Her effort failed; and thereafter, for a considerable time, she devoted herself to literature— writing stories, sketches, and miscellaneous articles for 'The Atlas,' 'The Saturday Press,' 'The Leader,' and other journals. In 1860 she wrote a novel entitled " Asphodel'; but this, though it got into print, was never published, owing to the suspension of a Boston firm that had undertaken to bring it out. Her only published novel appeared in 1865, and is entitled 'Only a Woman's Heart.' This venture likewise failed to attract the public attention, and she then formed anew the resolution of succeeding upon the stage. This purpose she pursued with sense, discretion, and quiet energy, and this time her efforts were rewarded—for she found congenial employment and earned a worthy place in her profession. The name under which she acted was Agnes Stanfield. In September, 1868, she was married to Mr. Frank E. Noyes, an actor, and in his society the latter years of her life were passed in honorable industry and quiet happiness. "
" On January 30[, 1874,] she was bitten, in the face, by a pet dog. Her wounds were severe; but these hurts were promptly cauterized and she began to recover, and presently she went to Rochester, to fulfill an engagement in the dramatic company of Miss Lucille Western. On March 2, a month after the accident, she was stricken with hydrophobia. Her friends immediately brought her to New York, and every possible measure was taken to mitigate her sufferings and save her life. She lingered in agony for twenty-four hours, when the great mercy of death was granted and she passed away."
"Ada Clare died, at Depau Row, Bleecker Street, New York, on March 4, 1874, . . . Her remains are buried at Hamerton, New Jersey.
"The friends that Ada Clare made she 'grappled to her soul with hooks of steel.' Many false and harsh words have been said of her, but it is right that this record of her cruel death should be made with remembrance of her virtues. She was truly known only to a few persons; but by them, in the solemn, grief-stricken words of an old poet, she will be 'mourned till Pity's self is dead.'"
Additional information: She was best known as Ada Clare. Her surname seems to have felled countless contemporaneous writers, and appears in various forms, including McIlhenny, McElhenney, McElhinney; the spelling used here is that found in her American National Biography (2000) entry. That article notes she also used the pen name Alastor.
See also A. L. Rawson, "A Bygone Bohemia," Frank Leslie's Popular Monthly 41 (1896) for a more detailed biography. (Discussion of Ada Clare begins in the last paragraph on pg. 100.) See her online entry at The Vault at Pfaff's for a photo and an annotated bibliography of references to her.
---
Cornelia Richards:
Cornelia Holroyd Bradley Richards (1822-1892)
In Schoolfellow as: Mrs. Manners; Mrs. Richards, Mrs. C. H. Richards; Mrs W. C. Richards
From The Twentieth Century Biographical Dictionary of Notable Americans (Boston: The Biographical Society, 1904)
"RICHARDS, Cornelia Holroyd (Bradley), author, was born in Hudson, N.Y., Nov. 1, 1822; daughter of George and Sarah (Brown) Bradley, and a sister of Alice Bradley Haven. She was graduated at the Hampton Literary institute in 1841; wrote under the pen name of Mrs. Manners; was married, Sept. 21, 1841, to the Rev. William Carey Richards, and is the author of: At Home and Abroad, or How to Behave (1853); Pleasure and Profit, or Lessons on the Lord's Prayer (1853) ; Aspiration, an Autobiography (1856); Sedgemoor, or Home Lessons (1857); Hester and I, or Beware of Worldliness (1860); Springs of Adion (1863); and Cousin Alice, a memoir of her sister, Alice B. Haven (1871). She died in Detroit, Mich., May 1, 1892."
Additional information: Cornelia Richards should probably classified as a northern author, since her stay in the south lasted barely a decade (ca1841-ca1853), but those years encompassed the period in which she wrote for Schoolfellow. See William Carey Richards and Alice B. Neal for additional information.
---
William Carey Richards (1818-1892)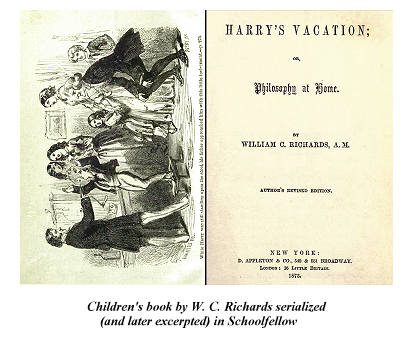 In Schoolfellow as: Editor, Schoolfellow, Your Schoolfellow; W. C. R.; W. C. Richards, Wm. C. Richards
From The Twentieth Century Biographical Dictionary of Notable Americans (Boston: The Biographical Society, 1904)
"Richards, William Carey, author, was born in London, Eng., Nov. 24, 1818; son of the Rev. William Richards, who immigrated to the United States with his family in 1831, and became pastor of the Baptist church in Hudson, N.Y. William, who was a brother of Thomas Addison Richards (q.v.), was graduated at Hamilton institution (Colgate university) in 1840; and was married, Sept. 21, 1841, to Cornelia Holroyd, daughter of George and Sarah (Brown) Bradley of Hudson, N.Y. He engaged in literary and educational work in Georgia, 1840-49, and in Charleston, S.C., 1849-51 ; edited the Orion and The Schoolfellow, and was associated with the Southern Quarterly Magazine. He became associate pastor of the First Baptist church at Providence, R.I., in 1855; was ordained in July, 1855; was pastor of the Brown Street Baptist church in Providence, R.I., 1855-62, and engaged in lecturing on physical science, 1862-65. He was pastor of the Baptist church in Pittsfield, Mass., 1865-68; professor of chemistry in the Berkshire Medical college for two years, and pastor at Chicago, Ill., 1876-77, resuming his scientific lecture work in 1877. He received the degree Ph.D. from Madison (Colgate) university in 1869. He was associated in the editorship of the Chicago Standard, 1876-80, contributed frequently to magazines, and is the author of: Shakespeare Calendar (1850) ; Harry's Vacation, or Philosophy at Home (1854); Electron (1858); Science in Song (1865); Great in Goodness, a Memoir of George N. Briggs, Governor of Massachusetts (1866); Baptist Banquets (1881); The Lord is My Shepherd (1884); The Mountain Anthem (1885); Our Father in Heaven (1886), and college and anniversary poems. He died in Chicago, Ill., May 19, 1892."
---
Catherine W. Barber Towles:
Catherine Webb Barber Towles McCoy (1823- after 1889)
In Schoolfellow as: Miss C. W. Barber
Excerpted from The Living Female Writers of the South (Philadelphia: Claxton, Remsen & Haffelfinger, 1872)
"AMONG the writers of the "Southland " . . . may be named Miss C. W. Barber; for by her familiar maiden name is she best known to the readers of Southern periodical literature.
"Miss Barber was born in Charlemont, a romantic little town in Northern Massachusetts, on the 25th day of October, 1823. She was the daughter of a farmer, and her earliest recollections are of green pastures, where fed herds and flocks; rich meadows, where waved the tall grass ready for the mower's scythe, and fields of golden grain ripening in the sunshine. She early began her literary career, sending verses to the country newspapers while yet a mere child. These verses were favorably received by the reading public, and were frequently copied into other journals. Hon. Whiting Griswold, now of Greenfield, Mass., was her principal teacher; he was at the time a student in Amherst College. He brought her books to read from the college library, and encouraged her to study and literary effort.
"In 1846, soon after the death of her father, she came South to reside in the family of her brother. Her literary reputation followed her, and contributions were solicited of her by Southern journals.
"In 1849, she received two prizes, one for the best tale, and one for the best poem, written for the 'Madison Family Visitor,' a literary and family journal started in Morgan County, Geo., and was solicited to take charge of its literary department; and did so, and continued editress of this paper for three years. It was during this period that she wrote a series of tales for the "Masonic Signet and Journal,' which were . . . collected into a volume, and published in New York under the title of 'Tales for the Freemason's Fireside.' Shortly afterward she wrote a series of 'OddFellow Tales,' which were published in a volume, entitled 'The Three Golden Links.'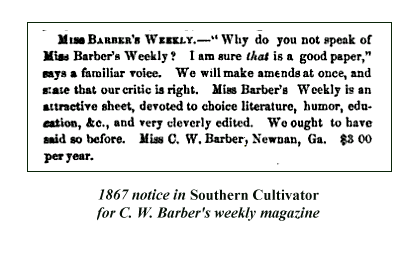 "In 1861, Miss Barber became connected with the 'Southern Literary Companion,' . . . in the town of Newnan, Georgia. To this journal she contributed novelettes, and articles on subjects 'humorous, grave, and severe.' Her connection with this paper continued until the close of the war. In the spring of 1866, she became editress and proprietress of a literary paper published in Newnan, called 'Miss Barber's Weekly,' which was continued until August 29th, 1867, when Miss C. W. Barber became the wife of Hon. John C. Towles, of Lafayette, Ala. She now resides on her husband's plantation near that place.
"Although of Northern birth, Mrs. Towles is Southern by acclimation and long residence, and she considers Alabama her home; for to her it is now 'a land of rest.'"
- - - - - - - - - - - -
Excerpts from Appleton's Cyclopædia of American Biography, vol. 6 (New York: D. Appleton and Co., 1889)
"She was the daughter of Rufus Barber, of Worcester, Mass., and has been a teacher. She began to write verses for the newspapers at an early date, and at the death of her father in 1846 she removed to the south. She was editor of the 'Family Visitor' in Madison, Ga., in 1849-'52, in 1861 became connected with the 'Southern Literary Companion,' and in 1866 became editor and proprietor of 'Miss Barber's Weekly.' which she continued till her marriage to John C. Towles of Lafayette, Ala., in 1867. In 1884 she married Jett T. McCoy, who has since died. She now resides at Columbus, Ga. She has received honorary degrees from southern colleges. She has published 'Tales for the Freemason's Fireside' (New York, 1859); 'The Three Golden Links' (Cassville. Ga., 1857): and 'Poor Claire, or Life Among the Queer' (1888)."
Additional information: None of the three book titles given in Living Female Writers of the South appear in WorldCat. See John C. Towles's entry at Find A Grave for more information about him and a transcription of his will.
---
Some of the Northern authors:
---
Sarah S. Tuthill Baker:
Sarah Schoonmaker Tuthill Baker (Mrs. Woods Baker) (1824 - 1906)
In Schoolfellow as: Aria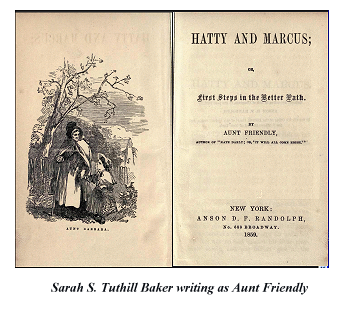 From John Frelinghuysen Hageman, History of Princeton and Its Institutions, vol. 2 (Philadelphia: J. B. Lippincott, 1879):
"Sarah S. Tuthill (Mrs. Woods Baker) is the youngest daughter of Mrs. L[ouisa]. C. Tuthill. At the death of her father she was left an infant. While very young she wrote in verse, until discouraged by her mother, who carefully turned her attention to studies required at school, in which she became very proficient. She afterwards in life occasionally indulged her taste for poetry, especially in her earliest published works. The Children's Christian Year, and Poems for Little Folks, were in verse, and her My Little Geography, was in prose and verse.
"Miss Tuthill was married in 1851 to Mr. Woods Baker, a man devoted to science, who, though young, had already become distinguished in his chosen career, and gave promise of great usefulness. But he was suddenly cut down by a sad accident on the Hudson River, in [September] 1852, leaving his crushed and broken-hearted widow with an infant daughter scarcely two weeks old.
"From this time Mrs. Baker resided in Princeton, and under the 'nom de plume' of 'Aunt Friendly ' soon became widely known through her charming books for young people, which were always welcomed with pleasure by old and young. Story after story flowed from her graceful pen, and few writers have done more than Mrs. Baker for the spread of a high-toned religious literature, among the youth of our own and other lands. Her books always present some important religious truth in a graphic and most attractive form, and their unsectarian character has made them especially useful in Sunday schools of every denomination. Poor Little Joe, Timid Lucy, The Babes in the Basket, and many others have become as familiar as household words. The works of Mrs. Baker have been much appreciated in England and Scotland, where they have had a large circulation; and some of them have been translated into the French, Italian and Swedish languages."
Additional information: She was born in New Haven, Connecticut in 1824. In 1876, she moved to Sweden to be with her daughter. She published several works based on her new home, including Pictures of Swedish Life and Fireside Sketches from Swedish Life. She died in 1906.
---
Elizabeth Jessup Eames [also Elizabeth Jesup Eames] (1813 - 1856)
In Schoolfellow as: E. Jessup Eames; Mrs. E. J. Eames; Mrs. E. Jessup Eames
From Caroline May, The American Female Poets: with Biographical and Critical Notices (Philadelphia: Lindsay & Blakiston, 1848)
"Mrs. Eames is a native of New York, but lived till her seventeenth year in a secluded village on the banks of the Hudson. In 1836, she was married to Mr. W. S. Eames, and removed to New Hartford, where she now resides. She was a regular contributor to the New-Yorker for some years before her marriage (under the signature of Stella); and since that period her writings have frequently appeared in Graham's Magazine, The Southern Literary Messenger, and more recently still in The Columbian.
"Mrs. Eames is a student, and has suffered much from ill-health. Her mind is of a serious, generally of a pensive mood; yet not desponding or downcast—'gazing upon the ground with thoughts that dare not glow.' Her strains exhibit much chastened fervour, an uplifting of the soul to a lofty purpose, and a steadfast desire to attain it, even though it be through pain. A volume of her poetry, which has never yet been collected, will shortly appear, and meet, we doubt not, the kind welcome it deserves."
- - - - - - - - - - - -
Excerpts from Rev. Henry Griswold Jesup, Edward Jessup and His Descendants of West Farms, West Chester Co., New York (Privately printed, 1887)
". . . born in Schodack, N. Y., 26 June, 1813. In 1834 she removed with her parents to Channahon, Will County, Ill., where, in Feb., 1837, she was married to Walter S. Eames . . . at the time of the marriage a farmer in Illinois. He was later engaged in mercantile business near Utica, N. Y., and died Sept., 1851, -- drowned in the Hudson River. Mrs. Eames . . . was an earnest lover of nature, and it was the inspiration derived from the surroundings of her early home on the banks of the Hudson that first awoke the poetic impulse within her . . . She wrote because she could not do otherwise. Her children testify to her enthusiastic devotion to literary pursuits, beginning with their earliest recollections, and extending to the very time of her death.
"Mrs. Eames began to publish in 1831, over the signature of 'Stella,' and after her marriage, as Mrs. E. J. Eames. Her poems were never collected and published together. Mr [Horace] Greeley once made her an offer for the manuscript volume, which she declined . . . Mrs. Eames died in 1856 at Channahon, Ill."
---
Caroline May (ca1820 - )
In Schoolfellow as: Caroline May
From The American Cyclopaedia, vol. 11 (New York: Appleton, 1875)
"MAY, Caroline, an American authoress, born in England. She is the daughter of the Rev. Edward Harrison May, for many years pastor of one of the Dutch Reformed churches of New York. She has edited 'American Female Poets' (1848), with numerous biographical and critical notes; 'Treasured Thoughts from Favorite Authors' (12mo, 1851); 'The Woodbine; (1852), an annual; and has published 'Poems' (1864), and 'Hymns on the Collects; (1872). Miss May is also a painter and musician. Sho resides at Pelham, Westchester Co., N. Y., on the grounds of Miss Bolton's 'Priory.'—Her brother, Edward H. May, is a painter of some celebrity in Paris."
Excerpted from Appletons' Cyclopaedia of American Biography, vol. 4 (New York: D. Appleton and Company, 1888):
"b. in England about 1820. Her father, Rev. Edward Harrison May, came to this country from England in 1834, and was for many years pastor of one of the Dutch Reformed churches of New York city. She first wrote poems under the pen-name of " Caromaia," . . and now (1888) has a collection of poems ready for publication."
---
Clara Jessup Moore (1824-1899)
In Schoolfellow as: Clara Moreton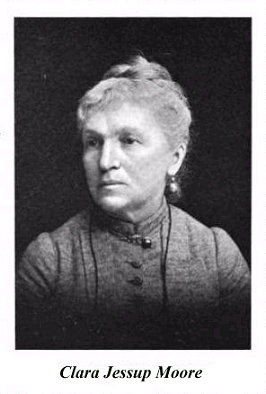 From The National Cyclopaedia of American Biography, Vol. 9 (New York: James T. White & Company, 1899)
"MOORE. Clara (Jessup), poet, novelist and philanthropist, was born in Philadelphia, Pa., Feb. 16, 1824, daughter of Augustus E. and Lvdia (Moseley) Jessup. Her father, Augustus E. Jessup, was the scientist of an expedition under Maj. Stephen II. Long, which visited the Yellowstone region in 1816. He was a native of Berkshire county, Mass., and a descendant of John Jessup, who in 1635 settled in Long Island. The Moseley's are an ancient English family, mentioned in 'Domesday Book,' . . . Clara Jessup was educated partly at home, partly at Westfield Academy, and at the school of Mrs. Merrick, New Haven. Conn. On Oct 27, 1842, she was married at her father's old home, in Massachusetts, to Bloomfield Haines Moore, of Philadelphia, and took a prominent place among the leaders of society, literary as well as fashionable, of that city. Having much leisure time at her command, she began to write for the press, contributing to newspapers and magazines verse and prose purporting to be the work of Clara Moreton. One of her early stories, 'The Estranged Hearts,; received the first prize in a competition, where 400 manuscripts were submitted. Later novelettes, such as 'Compensation' and 'Emma Dudley's Secret,' were similarly successful. Three books, 'The Hasty Marriage,' 'The House of Huntley and Raymond' and "Mabel's Mission,' were published without any name on the title page. When the civil war broke out, Dr. Bellows, of New York, president of the sanitary commission, named Mrs. Moore for president of the woman's Pennsylvania branch, which she had aided in organizing. She declined, but accepted the position of corresponding secretary, and with this important work upon her hands gave up literature for a time. She created and organized the special relief committee for aiding hospital work, and with Mrs. George Plitt organized the committees of women which conducted the great sanitary fair in Philadelphia. She also projected and aided in fouuding the Union Temperance Home for children. After the war she returned to literary work, using, as a rule, herown name. In 1873 an anonymous article by her on etiquette, published in "Lippincott's Magazine," attracted much attention and provoked much unreasonable criticism. In that year, also, she published a revised edition of one of her popular works, 'The Young Ladies' Friend'; in 1875, 'Miscellaneous Poems'; in 1876, a romance, 'On Dangerous Ground.' which passed through seven editions, and in 1878 her famous work, 'Sensible Etiquette.' Among other works were: 'Gondaliue's Lessons and Other Poems' (1881); 'Slander and Gossip,' privately printed (1882); 'The Warden's Tale, San Moritz, Magdaleua and Other Poems' (1883); 'Social Ethics and Social Duties' (1892), and several books for children, of one of which, 'Master Jacky's Holiday,' more than twenty editions were published. The proceeds of the sales of Mrs. Moore's works were spent in aiding philanthropic institutions and individuals who were engaged in literary or scientific pursuits. Among these individuals was John W. Keely, the inventor, who for many years was supported by her gifts. Much of Mrs. Moore's life was passed in London, especially after the death of her husband in 1878, and there, as in Philadelphia, her house was a resort for artists, musicians and authors. Mrs. Moore had three children: Clarence B. Moore, of Philadelphia; Ella, wife of Count Carl Gustaf von Rosen, first lord in waiting to King Oscar of Sweden and Norway, and Lillian, wife of Baron Carl de Bildt, Swedish and Norwegian minister in Rome. She died in London, England, Jan. 5, 1899."
- - - - - - - - - - - -
Excerpted from University of Pennsylvania: Its History, Influence, Equipment and Characteristics (Boston: R. Herndon Company, 1901)
"At her home in London, as in Philadelphia, were always to be met artists, musicians, authors and scientists. In 1878 she gave $10,000 to the University of Pennsylvania to found a fund to be called in memory of her husband the 'Bloomfield H. Moore Fund,' to promote the higher education of women at the University. By a later gift she increased the fund to $15,000. After her death her son presented to the University Library a valuable collection of books, paintings and sculptures which she had left on deposit there. "
---
Francis C. Woodworth:
Francis Channing Woodworth (1812-1859)
In Schoolfellow as: Uncle Frank
Excerpted from Samuel Austin Allibone, A Critical Dictionary of English Literature and British and American Authors, vol. 3 (Philadelphia: J. B. Lippincott & Co. 1882):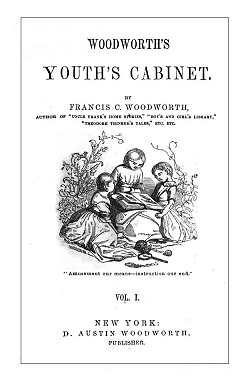 "Woodworth, Francis C., a nephew of Samuel Woodworth, . . . b. in Colchester, Conn., 1812, after eight years' labour as a printer and three years' experience in the ministry, from which he withdrew on the failure of his health, devoted himself to juvenile literature, in which department he acquired a wide reputation; d. June 5, 1859, on board a steamer, when on the way from Savannah to New York. [His works include] Uncle Frank's Home Stories, 6 vols. . . . Uncle Frank's Boys' And Girls' Library, 6 vols. . . . Uncle Frank's Picture-gallery, 2 vols. . . . Theodore Thinker's Stories For Little Folks, 12 vols.
"He also published [many books] in England: . . . Woodworth's American Miscellany of Entertaining Knowledge, 6 vols. . . . is warmly commended; and Woodworth's Youth's Cabinet, of which he edited about 15 vols., (continued after his death,) made his name a familiar sound in many households.
- - - - - - - - - - - -
From "A Lamented Death," his obituary notice in New York Musical Pioneer 4 (1859):
" Many, many children throughout the land, will grieve to hear of the death of the charming editor of The Youth's Cabinet, Mr. Francis C. Woodworth, well known as the Uncle Frank of that interesting monthly. He died on Sabbath morning, June 5, on board the steamship Savannah, as she was entering this port. Mr. Woodworth had spent the winter at the South, in the vain hope of arresting consumption. His funeral wes attended at the Mercer street church, June 8, by a large concourse of friends.
" 'Mr. Woodworth possessed a rare faculty for interesting children. He had a vein of pleasantry which enlivened even his soberest teachings. His writings were always pure in spirit and chaste in style. Besides his voluminous contributions to juvenile literature, he had written many things in prose and verse which have mado his name familiar in Christian circles. He was loved by all who knew him, and esteemed by all who have read his writings.' —Independent.
"A personal acquaintance of many years' standing with tho late Mr. Woodworth enables us to endorse fully the sentiment above expressed. He was a dear lover of music, and a good music poet. The popular little nursory song, 'Chickadeede,' was composed by him."
---