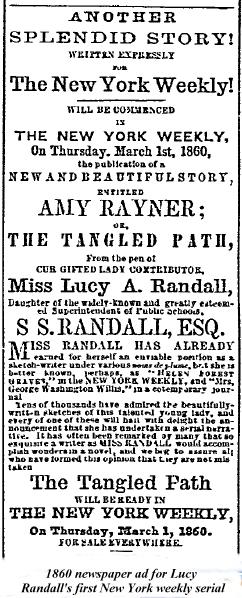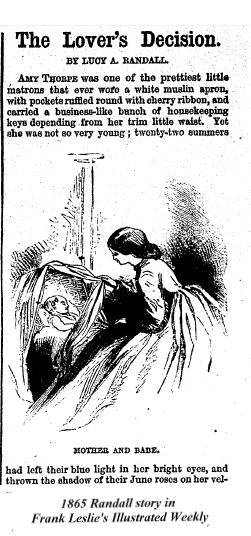 Lucy Randall Comfort (Lucy A. Randall)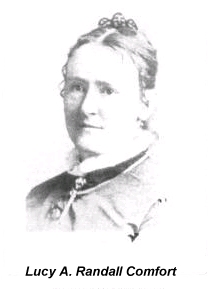 Born February 23, 1836, in Norwich, New York, Lucy Ann Randall was the daughter of Samuel Sidwell Randall (1809-1881) and Sarah Bassett Hubbell, and the second of five children (that included one set of twins). Her father, an educator, served as from about 1848 to 1870 as superintendent of schools in Chenango County, and later in Brooklyn and New York City. He also held the editorship of District School Journal for much of the period between 1845 and 1852 and in that position may have encouraged Lucy's penchant for writing. Her earliest identified work, a poem titled "The Consumptive," appeared in the August 1849 issue of District School Journal, and several of her stories and poems were published in the 1850 volume.
Within the next few years, Lucy Randall's poems and stories were appearing in several publications including Moore's Rural New-Yorker, Knickerbocker, and The Olive Branch. She also began contributing short pieces to Street & Smith's New York Weekly. In 1860, Street & Smith purchased her serial "Amy Rayner; or, The Tangled Path" and ran advertisements in newspapers across the country to promote it; they not only touted her connection with her father (and his official position as Superintendent of Public Schools) but outed two of her pseudonyms, "Helen Forest [or Forrest] Graves," which she had used for Weekly sketches, and "Mrs. George Washington Willis," for an unidentified "contemporary journal." In addition to her work for the Weekly, during the 1860s, she also wrote for another highly successful story paper, Robert Bonner's New York Ledger and for Frank Leslie's Illustrated Weekly.
On 23 May 1867, she married John Elijah Comfort (1837-1901), a doctor and health officer, but continued writing -- all that changed was the name on the stories, now Lucy Randall Comfort, and, briefly, the audience. In 1868, she published her only children's book, Folks and Fairies: Stories for Little Children, before returning to serials.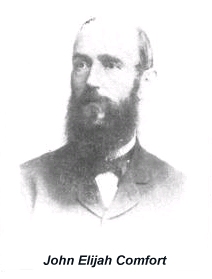 The 1870 census showed Lucy and her husband living with her parents, though the arrangement was clearly not due to financial necessity, nor did Lucy need to write for additional i ncome: her father's real estate was valued at 35,000 and his personal estate at 10,000; her husband's, at 16,000 and 5,000, respectively. Lucy also showed a personal estate worth $7,000.
She was now submitting material to yet another story paper, George Munro's Fireside Companion. During the early 1870s, her serials were almost a regular feature in the paper: "Ida Chaloner's Heart; or, The Husband's Trial" ran from 16 November 1869 through 28 March 1870; "Flora Fairfax; or, The Curse of the Crimson Cross" picked up the following week (4 April - 25 July 1870) and concluded the same week "The Newport Bride: A Story of the Summer Season" began (25 July - 7 Nov. 1870). After a four-month break, Comfort resumed with "Barbara's Life; or, The Heir of Remington" (6 March - 5 June 1871) followed immediately by "Love at Long Branch; or, Inez Merivale's Fortune" (12 June - 18 September 1871).
In the midst of this writing, the Comforts' son Randall was born 27 April 1871. He attended Columbia Grammar School and Columbia College, graduating from the latter in 1892, after which he toured Europe, then attended New York Law School. A second son, Frank, was born about 1878 but died prior to 1900. The 1880 census showed Lucy, John, Randall, and Frank together with three servants, living next-door to her parents and two of her siblings. Her brother Sidwell was an attorney; her father had retired. Lucy's occupation was shown as "keeping house."
Twenty years later, the 1900 census indicated the couple were still enjoying prosperity: they now shared their home with their son Randall and with Lucy's sister Martha (erroneously labeled a step-daughter by the census taker), as well as two servants and a coachman. John was a doctor; Randall, a lawyer; and the space for Lucy's occupation was left blank. By then, she was contributing to few, if any, periodicals -- though her serials were being reprinted as paperback novels by Street & Smith and F. M. Lupton. [1]
John Comfort died on May 29, 1901. Lucy continued to share her home with her son and her sister; the three of them, along with one servant, are recorded there in the 1910 census.
On 11 December 1914, Lucy Ann Randall Comfort died at her home in Pleasantville, New York. Her New York Times obituary noted that she "had lived in [that house] since the beginning of the civil war."
Notes

1. See the Lucy Randall Comfort entry at Villanova's Edward T. LeBlanc Memorial Dime Novel Bibliography for a list of some of Randall's story paper fiction and novels derived from story paper serials.
Copyright 2013 - Deidre Johnson