Sarah Elizabeth Forbush Downs (Mrs. Georgie Sheldon)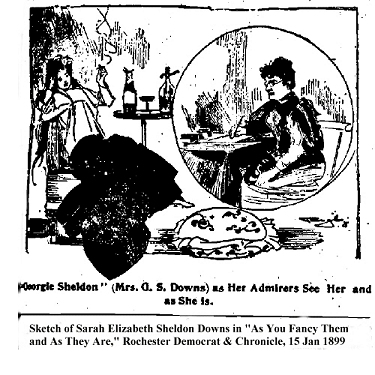 Born in Wrentham, Massachusetts, 5 June 1843, Sarah Elizabeth Forbush was the daughter of Edwin A. Forbush and Malvina F. Ware and the eldest of five children. She was educated at public schools in Ashland and at the Ladies Collegiate Institute in Worcester.
On August 31, 1862, nineteen-year-old Sarah married George Chamberlain (or Chamberlin), possibly after he enlisted in the army. Barely two weeks after their marriage, George was mustered into the Fifth Regiment Infantry, serving until July 2, 1863. A little more than a year later, the marriage ended with George's death on September 22, 1864. More tragedy followed: four months later, Sarah gave birth to their son, also named George, who died in September 1865.
Sarah's second marriage, to George Sheldon Downs, took place on April 3, 1868; the clergyman conducting the service was her own grandfather, Jonathan E. Forbush. In March 1870, she gave birth to a daughter, Nettie -- and again lost the child in infancy, on 11 October 1870.
The 1870 census shows the Downs family living with Sarah's parents and her three younger siblings. Her father's occupation is recorded as "manufactures boats," and her brother and husband both "[work] in boat shop" -- presumably that of Edwin Forbush. Sarah's only recorded occupation is "keeping house."
Sarah's entry in Who's Who of New England indicates she began contributing stories to newspapers as early as 1868 and to Street & Smith's New York Weekly about 1870. Her earliest identified serial for the Weekly appears to be "Nora, the Irish Charity Scholar; or, The Missing Heir of Callonby" which was published under the name Bertha Allyn from March 25-July 22, 1878, but later republished as by Mrs. Georgie Sheldon. [1] If she was the author writing as "Bertha Allyn," she also published at least one short reflective piece ("October") in the Weekly in 1872, and had a two-part story, "The Trial By Fire," printed in Peterson's Magazine in 1876. Her earliest serial for the New York Weekly as Mrs. Georgie Sheldon appears to be "The Churchyard Betrothal; or, Coals of Fire" which ran from August - November 1879.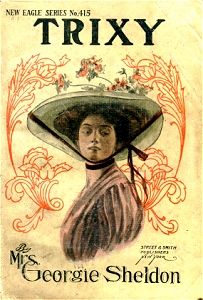 The 1880 census found Sarah and her husband in Concord, with George working as a "prison instructor" and Sarah's occupation still listed as "keeping house," despite her continued publications. The couple had adopted a two-year-old girl, Maud Draper, in 1872, so they now had a nine-year-old daughter. Sarah continued to write for Street & Smith, and beginning in the 1890s, the publisher reissued a number of her serials in several of its paperback romance series, including the Clover Series and Eagle Library. (Sarah, who had sold all rights to the stories, did not reap the financial benefits of these reprints.)

By 1900, Sarah and George were living in Boston. George had again changed occupations and now was a shoe manufacturer. Sarah was finally recorded as an author -- after more than 20 years of publications. Her real name (Mrs. George Sheldon Downs) was also beginning to appear on the title pages of some of her books, sometimes in parenthesis under "Mrs. Georgie Sheldon." George may have died between 1900 and 1910, for in the 1910 census Sarah is living with Maud and Maud's husband, Bradford Nelson Powell.

In 1920, Sarah was recorded as an "author" renting a home on Charles River Road in Cambridge. She appears to have died in spring 1926: the Catalog of Copyright Entries for 1926 indicates she renewed a February copyright, but her executors renewed the one in June, and her name was added to the New England Woman's Press Association's 1926-27 "In Memoriam" list.

Notes

1. Publication information for Sheldon's serials in the New York Weekly is from a bibliographic listing created by Edward T. LeBlanc.

See also the entry for Mrs. Georgie Sheldon at Villanova University's Edward T. LeBlanc Memorial Dime Novel Bibliography for an extensive list of her publications and possible links to online texts.

Copyright 2013 - Deidre Johnson

Return to main page