CHAPTER II.

TOM, DICK, AND HARRY.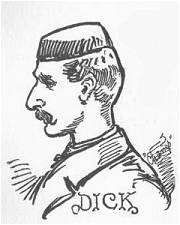 THE mustering of the clan Atchison began that night with the arrival of Dick on a late train from Oxford. Breakfast was hardly over before he was out upon the lawn stretching the tennis-net, after which he politely invited the guests of the house to a game. Maud, urging the sketches on which her heart was set, excused herself, and presently her trim figure was seen tripping toward Haddon Hall. Saint too slipped away, begging the privilege of practising some ballads which she had discovered on the music-stand. "Twickenham Ferry" soon floated in clear rich tones through the open casement to the players on the lawn,-for Barbara had accepted her cousin's challenge to a lively skirmish, and, with Harry for umpire, they enjoyed a hand-to-hand encounter.

"Where did you learn our national game?" Dick asked, in some surprise, as Barbara rested at last under the great oak, fanning her flushed face with a racket.

"We have played it at Vassar for three years past," she replied. " It is my favorite exercise, not quite so athletic as base-ball, nor yet so namby-pamby as croquet." Just as they were going in to luncheon a servant rode up with a note for Dick, which that young gentleman evidently considered of grave importance. He explained to them all at table that one of the features of the party at Chatsworth was to be an inter-collegiate lawn-tennis match, it being arranged that representatives of Oxford and Girton were to play against Cambridge and Newnham. " Furthermore," continued Dick, with some little pride, " I am invited to play for Oxford."


" Harry is going to the Rowsley Station at three to meet your father," said Mrs. Atchison; " he can start a little earlier and drop you on the way."

" Have Prince Rupert and Oliver harnessed to the dog-cart in tandem," Dick remarked to Harry, as the latter left the room for the stables. As Mrs. Atchison and the girls passed into the drawing-room Dick detained Barbara a moment. "Will you not ride over with us?" he said; "it is the ' Duke's drive,' one of the loveliest in the county. I can take you as far as Featherstonhaugh Manor, and Harry can play footman; after that he can drive you to the station, and you can bring father back."

Barbara's eye kindled, but a generous impulse restrained her. "Ask Maud," she said, "I shall have plenty of opportunities to see the beauties of the county, but she is going soon to London."

Dick did not at all relish the suggestion. "O, just as you please, but ask her for me then," he said, with great lack of enthusiasm; " I am afraid of her."

Barbara flew into the drawing-room to execute her commission. "Now what does she mean by washing her hands of a fellow in that style, " Dick thought to himself rather sulkily, as he hurried through his toilet. " That Miss Van Vechten in her gray travelling-suit, with her color-box and business-like air, looks like an agent for a commercial house, while I would have been rather proud of driving up to the manor with Cousin Barbara beside me."

As he descended the stairs, he found Maud waiting with the girls, and was somewhat surprised and mollified by the elegant driving-costume of dark green cloth, heavily ornamented with bands of rich embroidery in the same shade. " That's an imported gown." he said to himself, " evidently it was born in Paris." Dick's confidence in his own judgment might have been lowered, and his opinion of American taste rendered more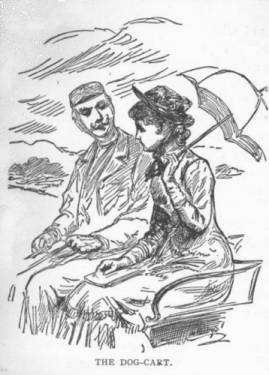 favorable had he known that the dress was made in Poughkeepsie after Maud's own design, and that it had already served one season for drives in Central Park, New York, and in walks in and about Cincinnati. Harry was holding the horses, and Dick handed Maud to her seat. They had hardly started when Mrs. Atchison called to them to stop, and Barbara ran down the drive with Maud's parasol. Then Saint waved her handkerchief from the door, and they were off, past grand old oaks and hunting parks, by river and crag, through the lovely English county. Through the first part of the ride Dick was silent, with the exception of pointing out notable objects on their route; but Maud, who was perfectly at her ease, gathered up the reins of conversation and guided them as she chose. She began with deft inquiries about Oxford and the Taylor Institution, with its Art School and Gallery, endowed and presided over by Ruskin. "What a privilege it must be to attend his lectures," she said.

Dick laughed, as though the idea struck him as absurd in the last degree.

" What will you think of me when I confess that I have never visited the gallery? " he asked.

" I shall be curious to know what your hobby is," she replied, " since it is not art."

" Tom is the artist of the family. My hobby is water," he replied. " I've a row-boat at the university, and you should see the family yacht at Manchester. She's a steam-launch, and we call her the ' Coal-Scuttle.' Father is as fond of yachting as any of us; he always manages to make a cruise at least once a year."

But Maud was no more interested in yachting than Dick had been in art; she had no mind to listen to accounts of regattas; and with much dexterous skirmishing she ascertained his favorite authors, and they settled down to a discussion of Matthew Arnold and Charles Kingsley.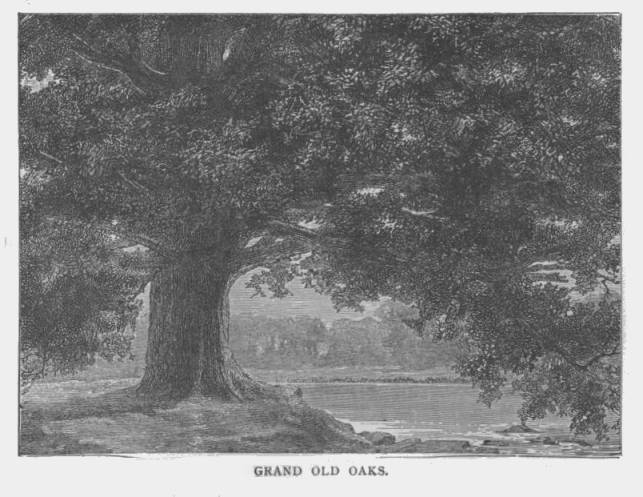 "Kingsley is a real waterman," she said, pleasantly," and now I can guess that your pet novelists are George MacDonald and William Black."

" Yes," he replied, simply, " and the reason I don't care for art is that I've never seen the sea painted yet-as it ought to be, I mean."

Then they drifted back to books again, and Herbert Spencer, Carlyle, Browning, and William Morris were passed in review.

"You and Miss Featherstonhaugh would be prime friends," Dick said, at last. " She is wild over Browning; now I don't pretend to half understand him. They have a Browning Club at Girton, and are as wise as a company of young owls.

Maud laughed heartily. " You have given me an idea for a caricature" she said. "You know every one resembles something in the lower animal creation. Miss Featherstonhaugh's face puzzled me. I know now that it has the owl conformation." They were bowling along very smoothly, and drawing out a pocket sketch-book she outlined a face that was half human, half bird. The round cheeks, widely-staring, surprised eyes, and above all the scornfully elevated, aquiline nose, was so like the appearance of a startled owlet, and yet bore so strong a resemblance to Miss Featherstonhaugh as she looked in upon them at Haddon Hall, that Harry, who was craning his neck from behind, burst into paroxysms of laughter.


Dick, too, though he could not understand the entire merits of the case, laughed in spite of himself, and in this merry mood a sharp turn through an ivy-covered gate-lodge brought them out upon a closely clipped lawn, before a picturesque Queen Anne Cottage. At another time the house would have claimed Maud's attention, but just now she noticed with embarrassment that quite a party of ladies and gentlemen were playing tennis close to a high hawthorn hedge which screened them from the observation of passers in the lane. Maud bit her lip as she reflected that they must have heard the laughter of her companions, and would doubtless regard her as a hoydenish and boisterous girl.

Miss Featherstonhaugh stepped forward from the group. Dick sprang to the ground and bowed profoundly, and Maud held the reins while Harry scrambled to her side. Miss Featherstonhaugh said something in a low tone, and Dick turning, introduced her to Maud.

"Will you not join us?" she asked, with what seemed to Maud rather distant politeness.

"You are very kind," Maud replied, "but it is quite impossible, we have another engagement." She pinched Harry's arm slyly, and he turned the horses toward the gate.

" More like an owl than ever," he remarked, as they passed through.

"Could anything be more unfortunate?" Maud replied, "than our ill-timed mirth? I wish I had shown you that sketch at any other point in our drive. She must think us the most giddy young persons she ever met."

" And all the while you were talking Matthew Arnold and Herbert Spencer."

The rest of the drive to the Rowsley station ran past exquisite views of mountain and valley. They were near the famous Dove Dale, and the scenery partook of its characteristics. They caught glimpses too of the grand old Tors' precipitous crags rising sharply from the Wye that frothed and frolicked at their feet.

Maud had been silent for a few moments, but at length she spoke; " Tell me about these Featherstonhaughs, please; how many of them, and what kind of people are they ? "

"There are only three of them left; Mrs. Featherstonhaugh, John, and Miss Gladys, and they are very nice people indeed. Old Squire Featherstonhaugh was a careless sort of man, and made ducks and drakes of their property. When he died he left the estate head and ears in debt to my great-aunt Atchison, who used to know him when she was a girl, and who lent him large sums of money. He always considered it a matter of sentiment, but Aunt Atchison was a shrewd, close-fisted old body, and all her loans were secured by mortgages on the house and grounds, which are almost as pretty a piece of property as our Cosietoft. Squire Featherstonhaugh was hardly buried before she sent in her little claim against the estate. Mrs. Featherstonhaugh is an invalid, and her children were afraid to let her know how badly they were off. John went to Aunt Atchison and told her that it would kill his mother in her delicate state of health to leave the place. Aunt pretended to be very magnanimous, and said she would not foreclose as long as the interest was paid regularly. John had just graduated, and was studying architecture, but he was not quite ready to enter business, and there did not seem to be any opening for him. All of a sudden Lord Gubbins, who was going out to India, offered to take him as his secretary at a good salary. John went, and was able to keep the interest up and support his sister. There is a farm or two along with the manor, so that Mrs. Featherstonhaugh had enough to live on; things went on very smoothly until Lord Gubbins came back from India and John lost his place. It was the year before aunt died. Ill as she was she was very sharp about her money affairs. Father acted as her agent, and it seemed as if she was bent on persecuting that poor family all she could, for she insisted that the interest should be paid regularly. Father said nothing, but found John a building contract down in the south of England somewhere, which he pretended paid the interest. Then aunt died."

" Was not she the relative," Maud asked, " who left the legacy to Barbara and her father ? "

"Yes, and she made a nice mess of it, too. She left all her property to father with the exception of Featherstonhaugh Manor, which she bequeathed to her relations in America. You see she was afraid father would be too kind to the Featherstonhaughs, and she hoped these unknown Americans would come over and turn them out of doors. She had never forgiven Squire Featherstonhaugh for slighting her, is what we young ones have made out of it, though who would have wanted to marry such a vindictive old creature as she was I can't imagine. Miss Gladys' mother is a lovely lady, ten times nicer than Aunt Atchison."

" If she wanted to give the family all the trouble she could, why didn't she foreclose the mortgage when it was in her power? "

"I don't know; perhaps she thought they never could rake and scrape the interest, and that a lingering, wearing anxiety like that, ending in final defeat, would be a more bitter thing to bear than a sudden blow."

"What a viperous old creature! "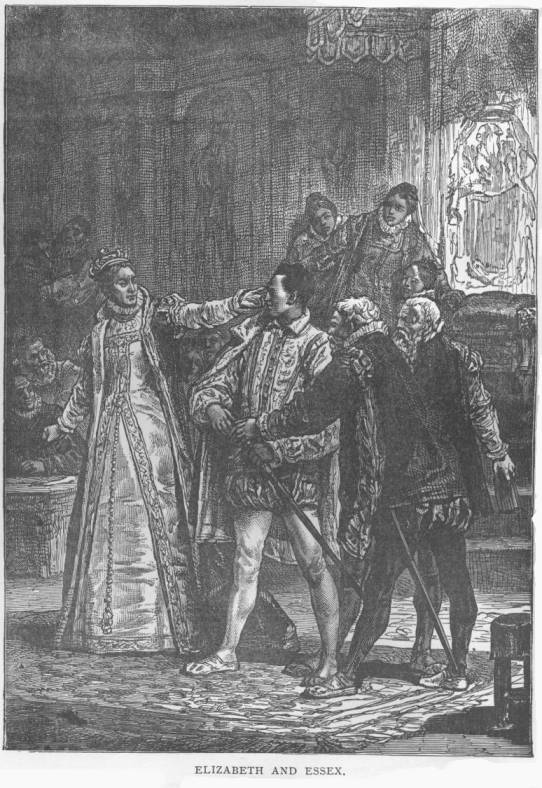 "Wasn't she? Her name was Elizabeth, and I remember a picture I saw once of our maiden queen boxing Essex's ear. It might have been painted from Aunt Atchison. I was always mortally afraid of her."

" Does Barbara know all this? "

"No; father doesn't want her to know it quite yet. I suppose I had no business to blab it to you, but you have such a taking way I did it before I thought."

"Never fear, I'll not tell Barbara."

" Honor bright? "

" Honor bright. I am sure your father has some good reason for keeping the facts to himself for the present.

" He explained to the Colonel (that's Barbara's father) that the property was invested so as to draw a higher rate of interest as it stands than it would be likely to do in any other way, and Colonel Atchison said that it was all Barbara's, he never would touch a penny of it, and father might manage it as he thought fit. So now father has some scheme or other of making Cousin Barbara and Miss Featherstonhaugh friends before the state of affairs is explained to either of them."

" Dear me! " commented Maud, " what a muddle! They have begun by hating each other cordially. If it was Saint now, she is so calm and unbiased,"-but Maud was suddenly silent, for another feature in the plot suddenly occurred to her, and she asked abruptly,

"What did you say had become of the brother? "

"He is doing well down in Kent; has an order to superintend some cathedral restorations, I believe." Just then a fish leaped in a quiet spot where the river crept near the road, and woke the boy's wildwood instincts. The Featherstonhaughs were dropped, and the talk was of trout and salmon fishing.

"We must bring our poles and have a picnic hereabouts before you leave us. There is "The Peacock," that every sporting-man in the county knows so well. They can grill our fish for us, and we can bring a hamper or two of good things from home."

Maud looked in every direction. " I can't see so much as a peacock's feather," she said.

" It's the inn," Harry laughed, " taverns I believe you call them in America."

"Oh!" from Maud.

" And here is the station,' please hold the lines while I go and look for father."




A train from the south approached, stopped, backed, and waited for the Manchester express. A tall, serious-looking young man alighted and approached Maud, apparently recognizing the horses and dog-cart. He lifted his hat ceremoniously. "I presume," he said, "' that you are my Cousin Barbara."

" I am your cousin's friend, Maud Van Vechten. You have perhaps not heard that Cosietoft has suffered an invasion of American Goths and Vandals ? "

"No," he replied, smilingly; "my father gave you quite another character; but I have not explained that I am Tom Atchison, just up from Worcester."

"You will give the family a pleasant surprise, they did not expect you until evening. We came to the station to meet your father."

The train from Manchester whirled in as she spoke, and Maud was glad to have Mr. Tom Atchison take the reins, for the horses pricked their ears nervously. Harry returned presently with a disappointed air.

"Father has not come. Hillo, Tom, where did you turn up from? "

"From China, of course. Step into the telegraph office, and see whether father has sent a message."

Harry came back presently, with a telegram in his hand. "He will be here in the evening. I can come for him when I go to the Manor after Dick."

The ride back to Cosietoft was an agreeable one. Maud had been desirous of meeting Mr. Tom Atchison since she had heard that he was connected with the most important porcelain works of England, She spent considerable time in decorating china, and having studied the subject in the museums of France and Spain, was prepared to talk intelligently, even with an expert. Mr. Tom Atchison presently found that the young girl beside him had more than a superficial acquaintance with his pet hobby, and they were soon engaged in animated conversation.

"I can understand," said Tom, "that you could easily have acquired your familiarity with the marks of different manufactories from studying collections' but where did you become so wise in glazes and other technical matters ? "


"I have experimented a little," she replied, modestly. "I studied with Mr. Volkmar, in New York, and while visiting last summer in Cincinnati, I tried my hand at the pseudo Limoge which they make there. If one has a pet idea, one can pick up odds and ends of information almost everywhere. When we were in Europe two years ago, my spending money always went for china, and I have a rather nice little collection at home. It boasts a Sevres teacup in Pompadour-rose, half of a genuine Alhambra tile with the old metallic glaze, a sugar-bowl in Rouen faience, a bit of antique majolica that my sister sent me from Florence, and a few other good things."

"Have you ever seen any of the really fine specimens of our Worcester ware ? "

"Yes, the vase at the Patent Office, at Washington, decorated with Asiatic animals. I want to buy some little pieces for myself when I visit Worcester."

" I shall be happy to add a couple of Royal Worcester plates, one old and one modern, to your collection."

"Indeed, you are too good; but there is something else that I would rather you would do for me."

"And what is that?"

"I am more interested in acquiring information than in collecting specimens, and if you will show us over the works, Saint and I can stop at Worcester on our way to London. I will be more than grateful."

" I will do it with pleasure, on condition that you do not decline the plates. But may I ask what practical use you intend to make of all this knowledge? Do you intend to set up a pottery on your own account?"

"Perhaps so. I don't mind telling you that all my art study tends that way. I visited Saint near Boston, one vacation. She has a cousin engaged in the Chelsea manufactory, and I was very much interested in their way of working."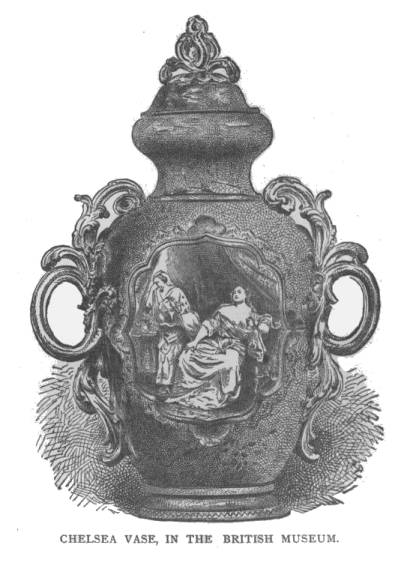 "What-you have transplanted our old Chelsea works, with their imitations of Watteau decoration and other French designs to America?"

"Only the name-the results effected are very different. What I wished to say was this. It may be a very low aim, but I am sure that I can never be a great artist, while I think I have taste and enthusiasm enough to do some good and original work in porcelain. I have decided to make this my special study while at South Kensington, and you can see now why I think it an especial privilege to visit the Royal Works at Worcester."

" The Duke of Devonshire has a fine collection of china at Chatsworth, which I can explain to you to-morrow was Tom's reply; while he thought to himself, "You are a remarkably sensible and I've no doubt you will succeed in what you attempt."




---
On to chapter 3
Return to main page

Scanned by Deidre Johnson for her 19th-Century Girls' Series website; please do not use on other sites without permission