Sarah Chauncey Woolsey (Susan Coolidge)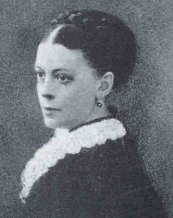 Sarah Chauncy Woolsey [1], who wrote under the name Susan Coolidge, was born in Cleveland, Ohio, on January 29, 1835, into a family related not only to Jonathan Edwards and Governor Winthrop, but also to three presidents of Yale: Sarah's great-uncle, Timothy Dwight; her uncle, Theodore Dwight Woolsey; and her cousin, Timothy Dwight.

Her childhood and adolescence provided the material for her most famous children's books, the "Katy" series. According to Frances C. Darling, the Woolsey family home in Cleveland -- five acres, complete with "a pasture with a brook in it and butternut trees and four cows" [2] -- served as the setting for the Carrs' home in What Katy Did, and the Carr children were loosely modeled on Sarah Woolsey and her siblings. Sarah, the eldest, "was uncommonly tall, just [like] Katy Carr, quick-witted, impulsive and full of imagination" (253). Her sister Jane, "small and fair with lovely blue eyes," (253) became Clover in the stories; her brother William was Phil; the youngest sisters Elizabeth and Theodora (frequently called Dora) became Elsie and Johanna, respectively; and an orphaned cousin, Theodorus, who lived with the family, was Dorry. These are the six children referred to in the book's dedication (253).

Like other nineteenth-century girls' authors, Coolidge was a creative child, producing stories and poems for her family. She was also well educated, attending a private school in Cleveland and, later, with her sister Jane, a boarding school in Hanover, New Hampshire, the Select Family School for Young Ladies. [3] The latter, "known to Dartmouth students as 'The Nunnery,'" became the setting for What Katy Did at School. [4] Two of the Woolseys' companions, Helen and Marion Choate, apparently helped shape the character of the Carr girls' close friend, the lively Rose Red. Writing in 1958, Darling noted that the Choate sisters "are still a legend in Boston . . . [and] were known as 'The Double Burners" [blessed with] the gift of quick and quotable wit." (254).

In 1855, the Woolsey family relocated to New Haven, Connecticut, where Coolidge lived for fifteen years. During that time, she became close friends with Helen Hunt Jackson (then Helen Hunt). During the first year of the Civil War, the two worked in a government hospital in New Hampshire. According to Darling, Jackson's story "Joe Hale's Red Stockings," is based on this period and contains "thinly disguised" references to Coolidge (255). Coolidge also served as assistant superintendent at Lowell General Hospital in Rhode Island, working there with her cousins Jane and Georgianna during part of the war. [5]

Coolidge continued her friendship with Jackson after the war, and, in the late 1860s, the Woolsey family spent time near Jackson in Newport, Rhode Island. There, Coolidge met other literary figures, including Thomas Wentworth Higginson. In 1870, Coolidge and Jackson vacationed in Bethlehem, New Hampshire. Coolidge had already published several poems and now began serious work on her first book, A New Year's Bargain. Her biographical entry in The Junior Book of Authors notes that she "sketched the outline" while "seated on a fallen tree in a grove" [6]. Woolsey adopted the pseudonym "Susan Coolidge" as an inside joke: her sister Jane had used the pen name "Margaret Coolidge" for some stories, and Sarah decided she would "be a sister of the famous Margaret Coolidge" (Darling 251). When the book (actually a collection of short stories) was published in 1871, it met with a favorable reception, earning praise from Jean Ingelow and Christina Rossetti, and so impressed a British publisher that he "ordered plates from Roberts Brothers at once" (Kilgour 108, 292).

After her father's death in 1870, Coolidge and her family traveled in Europe during the period 1870-72, spending some time in Italy; this, in turn, laid the foundation for what would become the third "Katy" volume, What Katy Did Next. On her return, in 1872, she traveled west with Jackson. Darling notes that although Coolidge "is never mentioned by name in [Jackson's Bits of Travel at Home] . . . she was the friend who made the long journey to California, shared the horseback rides and campfires in the Yosemite and reveled in the wonderful scenery and the quantities of wild flowers." (257) [7] Darling also credits this trip with providing Coolidge with background scenery for the final volume in the "Katy" series, In the High Valley, set near Colorado Springs (and adds that William, the model for Phil, actually relocated to South Carolina, not Colorado) (258).

Circa 1872, the Woolsey family also built a residence -- "a high-ceilinged, book-lined home" [8] -- called "The Jungle," at 93 Rhode Island Avenue, in Newport, Rhode Island, which remained Coolidge's home for the rest of her life. (Newport also served as the setting for one of her later children's books, A Little Country Girl.)

Somehow, amid all these activities, Coolidge still found time to write, producing her best-known work, What Katy Did, in 1872 and the sequel, What Katy Did at School, a year later. As with her first book, these were published by Roberts Brothers, who handled all her work until the firm's demise in 1898 (when Little, Brown, acquired the rights). In his history of the firm, Raymond Kilgour notes that What Katy Did "helped to make RB [sic] synonymous with excellent children's literature" (115). Coolidge may have also helped Roberts Brothers in other ways, for Helen Hunt Jackson changed publishers in 1873, offering Roberts Brothers her Bits of Talk about Home Matters and, thereafter, "remained one of the staunchest authors on the firm's list as well as one of the most successful" (Kilgour 125). Kilgour hypothesizes that the change was due to Coolidge's praise for the firm. Additionally, according to MacDonald, Coolidge was a consulting editor for the firm for years (398).

There was a thirteen year gap between the second and third "Katy" books, with What Katy Did Next coming out in 1886, and the final two books, Clover and In the High Valley, which concentrate on Katy's siblings (and are generally considered weaker works), in 1888 and 1890. In the interim -- and for much of her life -- Coolidge continued to write children's stories, most of which were first published in St. Nicholas under the editorship of Mary Mapes Dodge. She also wrote poems, stories, and travelogues for adults, which appeared in periodicals such as Outlook and Scribner's. In addition to her magazine articles, Coolidge edited and translated several works and collections of letters, and wrote at least a dozen other children's books, including collections of previously-published short stories, such as Barberry Bush (1893), and one volume of verse for young readers.

One of her most unusual publications appeared in an innovative line issued by Roberts Brothers, the No Name series. Launched in 1876, the series published new novels without identifying the author. According to Kilgour, "Each volume contained, at the top of the title page, this quotation from Daniel Deronda: 'Is the gentleman anonymous? Is he a great unknown?'" (140). The first volume, Mercy Philbrick 's Choice, elicited a variety of guesses about the author, with Jean Ingelow suggesting it was Susan Coolidge's work (it wasn't). Instead, Coolidge's work appeared in an 1878 volume titled A Masque of Poets, a poetry collection that included unsigned work by such notables as Christina Rossetti, Emily Dickinson, Louisa May Alcott, Henry David Thoreau, and Sidney Lanier.

In the late 1880s, after the death of their mother in 1883, Coolidge and her sister Dora, both still unmarried, built a summer home in Onteora, New York. Thereafter, Coolidge divided her time between visiting relatives, trips to Boston, and living in Newport and the Catskills. She died April 9, 1905, at her Newport home.

While several of Coolidge's works were apparently well-liked and often reprinted, none survived as long as the "Katy" books, which were very popular in the United States through the 1920s and are still popular in Great Britain. One Britsh critic, writing in 1936, noted that Coolidge revolutionized the staid nineteenth-century school story, remarking "Into this correct company there came dancing merry, mischievous charming Rose Red and her companions from across the Atlantic. Miss [Sarah] Fielding [author of The Governess] and Mrs. Sherwood would have regarded them with horrified disapproval, but the girls of England loved them." [9] A 1990s reading study in Great Britain found the "What Katy Did" series ranked among the ten most popular reading choices for 12-year-old girls. The first volumes of the series remain in print in both countries.


Notes

[1] The spelling of Chauncey varies; Darling consistently includes an e; MacDonald omits it.

[2] Frances C. Darling, "Susan Coolidge," in The Hewins Lectures, 1947-1962, ed. Siri Andrews (Boston: The Horn Book, 1963): 252. Future references to this source are parenthetical in the essay.

[3] Ruth K. MacDonald's entry on "Sarah Chauncy Woolsey," in Dictionary of Literary Biography, vol. 42 (Detroit: Gale Research, 1985), refers to the school as "Mrs. Hubbard's Boarding School," 397. Future references to this source are parenthetical in the essay.

[4] Raymond L. Kilgour, Messrs. Roberts Brothers Publishers (Ann Arbor: U of Michigan Press, 1952): 127. Future references to this source are parenthetical in the essay.

[5] Frances C. Darling, "Woolsey, Sarah Chauncey," in Notable American Women, 1607-1950, vol. 3, ed. Edward T. Jones (Cambridge, MA: Belknap Press of Harvard UP, 1971): 668.

[6] "Susan Coolidge," Junior Book of Authors (H. W. Wilson, 1934): 96.

[7] Helen Hunt Jackson's Bits of Travel at Home is now online at the Central Pacific Railroad Photographic History Museum.

[8] Darling, "Woolsey," 668.

[9] Amy Cruse, The Victorians and Their Reading (Boston: Houghton Mifflin, 1936), 236, quoted in Kilgour, 128.

Additional sources consulted

American Authors 1600-1900: A Biographical Dictionary of American Literature. Ed. Stanley J. Kunitz and Howard Haycraft. New York: H. W. Wilson Co., 1938.

National Cyclopedia of American Biography. New York: James T. White & Co.

Who Was Who in America, with World Notables. 1943; rpt. Chicago: Marquis-Who's Who, Inc., 1968. Vol. 1.




Return to main page

Copyright 2003 by Deidre Johnson Please do not reproduce on other webpages without permission.