---
Four Mothers at Chautauqua
by "Pansy" [Isabella Alden]

Boston: Lothrop, Lee & Shepard Co., 1913


---

[Excerpts from the final chapter, with history of Chautauqua and allusions to Pansy and Grace Livingston Hill.
Note: The excerpt reveals the resolution of the plot.]

CHAPTER XXVIII

"SING A SONG OF YEARS!"



FROM the Hall of the Christ, they turned their steps to the Hall in the Grove. As they moved slowly through the grove, with the sunbeams playing hide and seek among the trees, and the gentle plash of the fountain, and the murmur of bird-song in their ears, the power of it, mingling with the sense of the coming farewell, got hold of their hearts.

"What a perfectly beautiful and blessed monument it all makes for the Bishop!" Hazel said, stopping to look about her wistfully. "What more could he have done to reach and help people? I wonder how he came to think of it in the first place?"

"He would tell you that he didn't," Burnham said. "There is another name that he wants forever associated with Chautauqua. Did you never hear of Mr. Lewis Miller? Why, the great bell-tower near which you sat on the day that you were discovered, is his memorial.

Every time you hear the Chautauqua bells ring you must think of him."

"I love the Chautauqua bells," said Hazel, "but who is Mr. Miller?"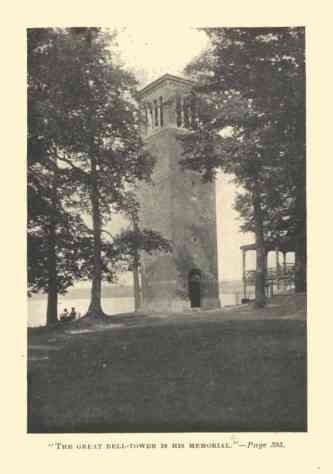 "A good, rich man; a friend of the Bishop dating back to years before there was a Chautauqua; the man whose money made Chautauqua possible; the man whose vision reached through the years and peopled these woods as they are to-day."

"Is that really true, Burnham?"

"It certainly is. I've heard the story from the Bishop himself. His first suggestion was a normal Sunday school assembly here, in the woods, for the purpose of training teachers to teach the Bible; and that was the way it began; his money and his faith and the Bishop's brains united, and this is the result. That isn't saying that the Bishop hadn't faith, also, you know; but they say he never allows the other name to be forgotten for a moment."

"And he is gone?" said Hazel. "Oh, I hope he sees what is being done here!"

"There is one very beautiful remembrance of him," Burnham said. "Where were you, dear, on 'Old first night'? Were you at the amphitheater? I don't believe you were; I'm sure I should have seen you."

She laughed and blushed. "I was not; I was at home in my attic, crying foolish tears because I hadn't a thing to wear."

"Poor darling! she shall never cry foolish tears in an attic again. But you missed a good deal. The entire service that evening was most impressive even to me, a barbarian unable to appreciate the true spirit of Chautauqua. Still I could dimly fancy what it was to my mother and others who have memories and traditions. There were a few present who were on the ground for that first vesper service thirty-nine years before. It must have been great to them to hear the very same words read by the same voice that rang out that first evening in the woods."

"Not the same service!"

"The very same, they tell me. The Bishop opened the responsive reading with the words : ' The day goeth away; the shadows of the evening are stretched out.' But what I started to describe was the memorial scene. Do you know the Chautauqua salute? Then you understand what a strange effect is produced by the simultaneous flutter of countless white handkerchiefs. Can you imagine what it would be to see at least five thousand of them held aloft motionless for a single solemn minute, the only sound in the great assembly coming from the great organ softly tolling out a requiem? That is the way they paid tribute to the Bishop's co-laborer, and to other great souls who put their shoulders to the wheel in the early days of the enterprise. I never saw a more impressive sight in my life. By the way, there is to be a unique salute today; where is my purple program? Ah, here it is; Stebbins is most anxious that we should help to swell the wave. You see they have imitated the colors of the pansy in their programs --yours is amber, isn't it?--and at a given moment they are to be gracefully waved; see that you do your part."

"They are pretty," said Hazel, gazing at her program, "and they do copy the pansy colors beautifully. I wonder why they chose the name in the first place."

"Don't you know? It is the pen-name of a member of their class, and she is here with them to-day. Stebbins has given me points about the whole affair. The members of the class are to be seated near their tablet, the one with the pansy on it, you remember? It seems it was an uncommonly large class, nearly five thousand graduates; think of that for a graduating class! and there is a remarkably large representation of them here after a quarter-century. It seems they have had an indefatigable secretary who has done wonders for them. Stebbins says their splendid aggressiveness this year is due to her. You and I must take seats to-day, beloved, but just wait until nineteen hundred and forty-one when our twenty-fifth anniversary falls due and see if we are not in the front ranks!"

"Oh, Burnham!" her voice was awe-stricken over the thought of the years, but he looked at her with fun-loving eyes,--that had yet much more than fun in them.

"We'll come," he said. Then they had to stop talking, for the company had broken into song.

"Join, oh friends, in a memory song;
A song of service, of faith, of praise.
Of love that gathers its fibers strong
From forest soil and Chautauquan days.
Sing, oh sing! for the word shall spring
From seed to scion, from bud to bloom,
Since life immortal the Lord did bring
From the seed that fell in an open tomb."

Following song and prayer and the dedication of the class tablet, by the Bishop, came class reminiscences, bringing vividly back the memory of the early days, class history wherein the long and checkered way was carefully traced, and tender tribute paid to those who were of them, but not with them. Class congratulations given by the beloved secretary of the Chautauqua Institution in which, after happy reference to their class history and graceful tribute to their indomitable class spirit, she counseled all loyal members to be sure to return for their fiftieth anniversary! Running through the entire program like a graceful thread that bound all together were the words of the class president, as with fitting phrase he announced the various speakers, or paid tribute in a single happy sentence to some distinguished guest. It was all delightful to the members of the class, and by no means lacking in interest to mere lookers-on.

"They do really manage to keep up the class spirit," murmured Burnham. "I didn't suppose they could, with classes made up of such diverse elements and divided by continents."

"And years," said Hazel. "Some of these people must have been middle-aged when they entered the class. But what I want especially to hear is the class poem."

Burnham looked down on her, amused. "Why especially?" he asked. "Do you expect a gem?"

"Perhaps, yes, in one way I do. Have you ever seen the lady who is to give it?"

"Not to my knowledge. Stebbins, who has told me everything about this particular class that an enthusiast of the first magnitude could rake up, informs me that she is a niece of the lady for whom the class is named. But I want to know why you are especially interested in her."

"I'll tell you later," she murmured, for the reading of the class poem had begun.

"THE VISION."

"I saw a goodly company
Throng up the steeps of knowledge;
And some were young, and some were old,
And some had been through college.

"But all were one in hope and aim
And joyful glad endeavor;
And all had heard the magic word:
'Neglect no gift' forever.

"A flower each wore--a talisman,
The thoughtful little pansy;
Mixed purples, golden, blue and white,
A tint to suit each fancy.

"Four busy years they journeyed on
'Mid treasures of the ages,
O'er rocky paths, and rough hard ways,
Worn by the feet of sages.

"Then, passing through the 'golden gate'
And 'arches' green, of Knowledge,
They looked beyond, and found that life
Was but the soul's great college."


"THE SONG.

"Sing a song of summers,
Of summers bright and long;
Of leafy trees and whispering breeze
And wild bird's joyful song.

"A song of inspiration!
The vision of one man!
Of gathering throngs and even-songs--
Great soul--uplifting plan.

"Sing a song of petals
Of purple rift with gold;
Pale amethyst with ruby kissed,
And royal velvet fold.

"Sing a song of years,
Of years, that come, and go;
Five-and-twenty, filled with plenty;
Work, and joy, and woe.

"But play a note of sadness,
In measured tones of love;
Let tolling bell the story tell
Of dear ones gone above,

"Where searching turns to knowledge
And mysteries all unfold;
Where arches ring, and angels sing
Beside the gates of gold.

"Then sing a song of ages!
Eternities to come!
When Eighty-seven meets in heaven,
Our members all at home. ' '

Following the class poem came the pansy salute, the many-colored banners flashing in the light a quiver of purple and gold.

" 'Mixed purples, blue and gold and white,
A tint to suit each fancy. '

"Wasn't it lovely!" murmured Hazel.

"What? the poem, or the lady?"

"Both," she answered, laughing. "Do you notice, Burnham, that she looks like a pansy?"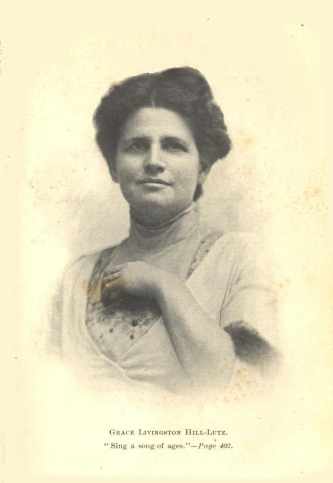 He stretched his neck to look at her. "I can't say that I consider the resemblance striking," he said.

"It is, all the same; there is something about her that reminds me of one. A pansy is more like a human face, you know, than any other flower. ' '

"Stebbins says this one also is a writer of books."

They had escaped from the hall now, and were walking down the hill toward the lake. Hazel was quick with her reply.

"Oh, she does; that is the way I know her; it is why I especially wanted to hear that class poem."

"You know her, do you say?"

"Well, in a book, you understand; as one knows people who have come in touch with one. I never spoke to her in my life, never saw her face before; but still I know her. She wrote a book called 'In The Way.' It came into my life when I was a young girl, and life was very bright before me; I had all that I thought I wanted in the world; the dearest father and mother and the happiest home any girl ever had; and yet that book, describing a girl very differently situated, appealed to me in the most wonderful manner! sent me searching for 'the Way,' as I had never searched before; and of course I found it. Then, when life was all black before me, when I had lost everything,-- and was almost in the depths of despair, that book came and comforted me in the sweetest fashion! helped me to remember that no matter what happened I was still 'In the Way'; my Father's Way. Do you wonder that I wanted to see her?"

"Indeed not!" he said. "She ought to know that; it would help her. Did the class poem fit your thought of her?"

"Yes, entirely. It must be very difficult to write anything that has to be local in its references ;--true to the mottoes and traditions of a single class through the years, and not only make poetry of it, but put into it the ring of eternal truth; and she accomplished it. Don't you think so? Burnham, wouldn't it be glorious if this great Reading Circle that has spread over all the earth could be set to work for Christ? Then 'When Eighty-seven meets in heaven,' and all the rest of them are gathered, there, think what a company!"

[...]